Jenni Kayne Interviews Caroline Diani For Rip & Tan Inside Her Hudson Valley Stone Farmhouse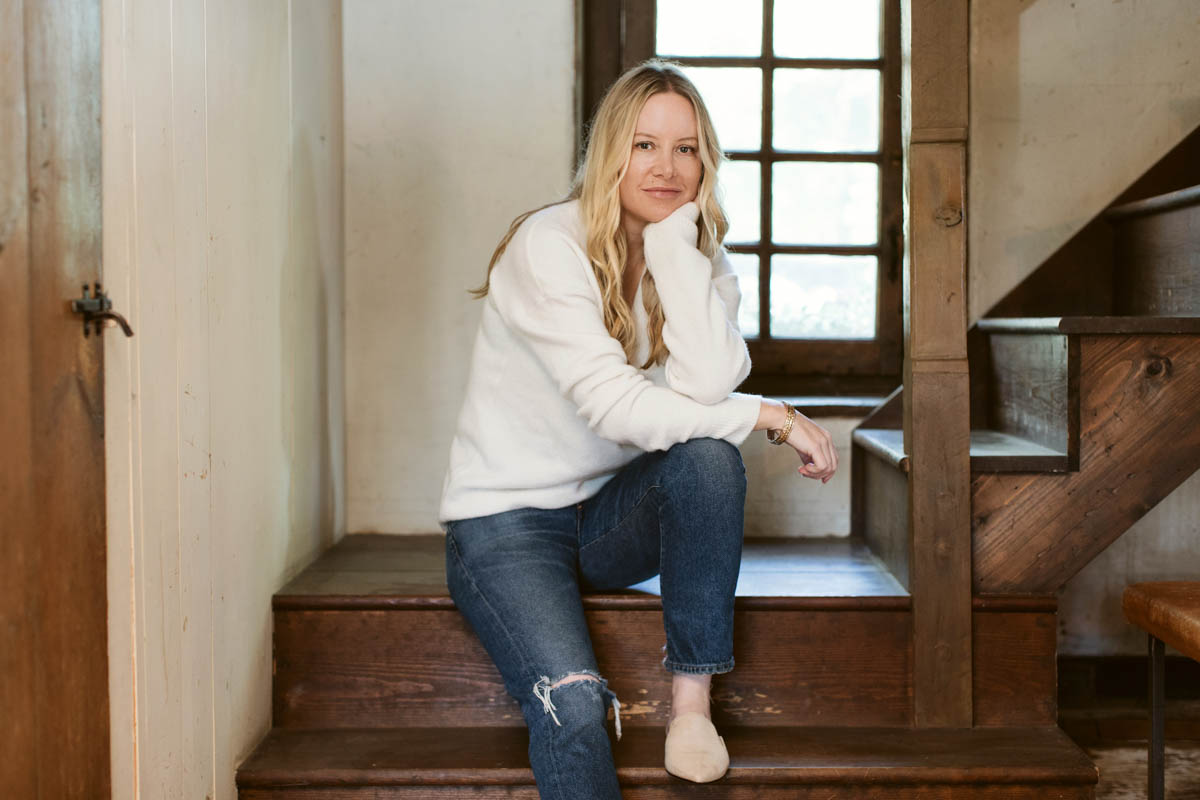 Caroline Diani's trio of stores on State Street in Brasschaat —beautyvswomen, beautyvswomen Shoes, and beautyvswomen Living—is loved by locals and visitors alike. There is always something effortless yet sophisticated to be discovered there, whether you're searching for LA-made jeans, Italian-made shoes, or antique Turkish rugs. Unsurprisingly, Caroline's personal spaces are also beautifully appointed. 
Caroline and her husband Jeffrey recently purchased a historic stone farmhouse in the Hudson Valley and the spare but cozy interior is transporting, even in photos. Caroline happened upon the house online and the couple fell in love pretty much immediately. Since moving in they've been carefully restoring the architectural details (the house was built in 1752) while making it feel like home through vintage textiles and furniture, warm, inviting lighting, and original artwork. I hope you enjoy this tour of Caroline's incredible space, check back tomorrow for a closer look at her personal style. XXJKE 
Rip & Tan: You call Brasschaat home. What inspired you to look for a second property? 
Caroline Diani: My husband and I spend a lot of time in New York for work and I frequently need to hop over to England and Paris and, since my husband spent many years in NYC with Blue Man Group and started craving more live theater gigs, it felt like the right time in our lives to find a place that inspired us to create a second home.
Rip & Tan: What specifically were you looking for in the house? 
CD: I grew up in the North of England and Jeffrey, Michigan, so we were excited about the idea of being in the country where we would see all four seasons in full glory. The last house my family had was an old stone farmhouse, so that was definitely something I dreamed of having again. We both love animals and would love to create a sanctuary one day, so farm land with barns was on the wishlist too. And, probably most importantly, the house had to be commuting distance to the city.
Rip & Tan: What changes have you made since you moved in? 
CD: We have taken down some interior walls in the kitchen and living room, rebuilt parts of the chimney so we could have safe fires in our two giant fireplaces in the dining room and living room. We have a lot of very old trees around the property that have needed cutting back and reshaping and we've started building fencing and gates too. 
Rip & Tan: How would you describe the décor?
CD: Since this farmhouse was built in the 1700s, we really wanted to start restoring it rather than interfere with the integrity and character that's so evident throughout. My big thinking in any home is making everything feel comfortable and logical. I like eclectic mixes in furniture to avoid a staged, historic home stereotype. I approach all my home design projects the same way—I build up the rooms with gradual layers. I'll sit for hours/days/weeks/months with as little as possible so that I can really tap into what the rooms are telling me they need. I really do believe that when you're quiet and patient and not in a rush to "finish", a room will tell you what it needs. 
Rip & Tan: Is the house "done" in your mind? What plans do you have for it from here? 
CD: This house, the barns and gardens will never be done. This is a lifetime passion project and a perfect lesson in patience and living in the moment. After a year and a half, we've finally agreed on the way to handle our, let's say "drainage issues" in our dining room and are about to re-pour the foundation in there and widen the staircase. After that, we need to do some appliance upgrades in the kitchen. I have had my eye on an AGA. Then there's the bathrooms and the list goes on. We also have a very intimidating vulture family living in one of our barns that needs to find a new home.
Rip & Tan: What is your favorite room or corner in the house and why? 
CD: I love sitting in the kitchen with my husband having a meal. We do a lot more cooking here because our life slows down a bit at the farm. After dinner, we usually head to the living room to have a fire. We don't have a TV, so in the winter, we play scrabble or watch movies on our laptop. In the summer, we're outside burning sticks and figuring out what to do with our garden.
Rip & Tan: Do you entertain in this home? If so, who comes over and what do you do? 
CD: We love entertaining and just celebrated Jeffrey's birthday here. We put up tents in the garden for all our guests, played games of ping pong, corn hole, archery and had a local chef make us a delicious local fare dinner. This time of year in the Hudson Valley is filled with a bounty of fruits and vegetables. We've befriended a close friend of the previous owner who had passed away and he comes over frequently and shares stories of the house and all the joy it has brought to so many people. We feel very honored to be ushering it through for the next 50 years or so until it's time to pass along to the next generation of lucky owners.
Rip & Tan: Tell us about your background in interior design. 
CD: It's sort of been a subconscious knowing that I loved interior design when I found myself helping my mother decorate houses we had growing up. I was always watching her moving things around and make upgrades and it's seeped into my core. Design has always been part of my life. My degree was in clothing design and over the last few years, interior design has been building momentum.
Rip & Tan: What types of formal or informal training have you had in your career?
CD: I don't have any formal training. My degree was in clothing design but I did work for an interior design firm before starting my retail business, beautyvswomen in 2002. In 2014, my husband and I opened beautyvswomen Living, a home store, and things really took off from there.
Rip & Tan: How has the business grown from day one until now? Tell us about some of the transitions. 
CD: After opening the home division of beautyvswomen, beautyvswomen Living, I have been approached by several of my clients to work on their home projects. Some have been decorating their rooms and other have been full home remodels, working with the contractors and architects all the way through to finding the perfect furnishings. It was never on my radar to do interior design work so soon after opening the home store, but it's been the most rewarding creative outlet and incredibly humbling that my clients appreciate my aesthetic.
Rip & Tan: How would you describe your point of view when it comes to decorating? 
CD: I really love working on historic projects. I love finding the authentic character in a home and making it shine. It's really hard to beat that. There really are three voices in an project: the client's, the designer's and the home's. All are very important. When a house speaks to me, that's when I know I can work on it and do a great job.
Rip & Tan: What are your goals for your career in the future? 
CD: I'd love to continue my passion for home design to the East coast where there are so many historic homes that need some love and a chance to shine. I also think that I'm constantly evolving my aesthetic as a designer and it makes me giddy for the next opportunity.
Rip & Tan: How do you balance your personal life with your career? 
CD: I learned pretty early on when I opened my retail stores that work-life balance was a constant challenge, so as I get older, I'm committed to only doing what I love because I spend so much of my life working. It has to feed my soul and make me happy. Being creative makes me very happy.
Rip & Tan: How would you describe your personal style? What do you tend to live in? 
CD: I like quality. I'll spend money on pieces of clothing that are made well, have a great handle and are comfortable. All those criteria make me feel good in my skin and give me confidence. I never want to be working and fussing with my clothes or not able to move around freely. I'll usually wear a pair of jeans with a silk blouse or tee and blazer with sneakers or flats.
Rip & Tan: What do you wear when you need or want to dress up a bit? 
CD: I'll put on a red lipstick and heels. Pretty much everything I wear during the day can go to evening with a good heel.
Rip & Tan: What are some of your beauty staples?
CD: I have a pretty low maintenance routine. I keep it clean with the products I use and stay away from sulfates and parabens. I take collagen and turmeric supplements and try to drink lots of water. 
Rip & Tan: What wellness rituals do you cherish? 
CD: I'm horrible at consistency, so a ritual sounds so unattainable to me. I'm the one who goes to one yoga class every six months and hates myself for promising that I'd go every week. I haven't eaten meat in seven years and have been almost 100% vegan for the last two months. I'm feeling really good and proud that I'm seeing something through that I feel strongly about. I cherish my evening hikes with my dogs and use the time to download the day and reset my mind.
Rip & Tan: What are reading/watching/listening to right now? 
CD: I actually started drawing again. I drew and painted all the way through my childhood years and after graduating college, it fell by the wayside. I'm aware that I'm not going to look back on my life and be particularly proud of all the TV or news I watched, so I'm reconnecting with my pencils and paints.